My Background
I have been working as a psychotherapist in private practice since 1986. I am a Licensed Mental Health counselor in the state of Washington and am certified by EMDRIA (the EMDR International Association).
Originally from Boston, Massachusetts, I graduated from Emmanuel College with honors, in Music Therapy. Upon moving to Washington State in 1978, I trained and became certified as an American Sign Language Interpreter. I worked as a freelance, community interpreter for 10 years and then attended graduate school at LIOS (The Leadership Institute of Seattle) where I completed my Master's degree in Applied Behavioral Science with an emphasis in Counseling and Leadership.
I believe that within ourselves, we have the innate resources and capacity for healing, growth and transformation. Therapy is the process of helping people open, to learn more about themselves, and discover these inner resources in the hopes of living more fulfilling lives. The relationship between client and counselor is essential for establishing a working alliance, as the counselor functions as an anchor: a secure base who is engaged, emotionally attuned and empathic. This relationship lays the foundation and helps open the door to the possibility of healing and change.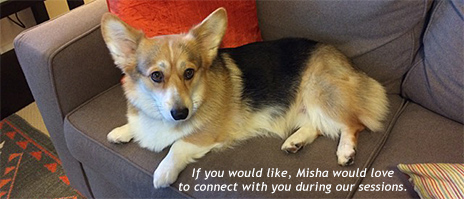 Tools and perspectives that influence my work include EMDR (Eye Movement Desensitization and Reprocessing), CIMBS (Complex Integration of Multiple Brain Systems), Attachment Theory, Life Span Integration, Family of Origin/Systems Theory, AEDP (Accelerated Experiential-Dynamic Psychotherapy and EFT (Emotionally Focused Therapy).
In addition to my psychotherapy practice, I volunteer in the Deaf community working to make theater and other live performance entertainment more accessible to Deaf, Hard of Hearing and Deaf Blind adults and children.
"And the day came when the risk to remain tight in the bud was more painful than the risk it took to blossom" - A. Nin